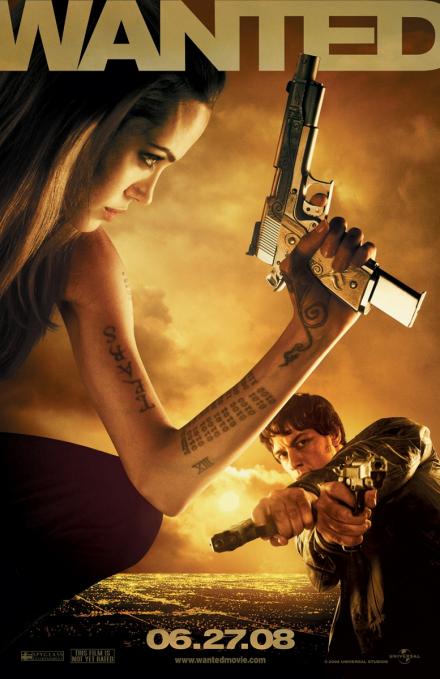 I recently bought the comic miniseries "Wanted"...(yes real men read comic books ...u turds )....The top picture is the movie which is gonna release soon with angelina jolie and below is the cover of the comic its based on....
Its about this guy getting fucked over by life ....his gf is sleeping with his best friend quite blatantly....eating the same salmon sandwich every day wishing everyday was different.... then suddenly he is told my this hot chick that he is the son of th greatest assassin in the seven dimensions the universe is made of and he is gonna inherit 50 million dollars if he takes his position....So begins his transformation from a regular guy stuck in a cubicle to one of the greatest assassins ever....he is so good he can make bullets bend (actually if a horizontal component is added to a bullet velocity with a proper groove bullets can acutally bend ) and shoot wings off flies... anyway the trailer for the movie is this with angelina jolie looking really really good...
Anyway Im in one of those reclusive moods where I tend to avoid boring human company (i do enjoy conversations with intelligent people) and im less pliant in sitting amongst people who piss the fuck out of me........these includes people doin small talk about their jobs...("oh hi so ur position gives u control over companies looking at natural resources"..."this would really look good on her resume when she applies for an MBA" I mean look how boring this is ...this is not a fucking job fair...get a life).
I am really happy without having a gf. Its horrible to stuck in a relationship when the gf will only put out once a month like she is in a 60s. But the real horrible deal which comes with ur gf is her "FRIENDS". Who in the fuck likes their gf's friends......they are composed of girls who will keep telling her she can get better than u (perhaps an investment banker who will pay her by the hr) and some guys who are waiting for the opportunity to hump her as soon as she grants access to her naughty parts.
Yesterday at french class I had to spend half an hour listening to a girl telling us about her experience as a volunteer in a fucking elephant farm in french. I mean I can understand people going out helping other people but a
fucking
elephant farm, what do you do? clean the football sized crap? Girls in the french class are either there to get a french guy or they want to pleases their french bf's grandparents (Im sure its not easy to fool a pair of french peasents from burgundy in their 60s) so they can live in France happily ever after eating smelly cheese and obsessing about if their country is gonna slide into recession because their president is singing "L'amour" with his wife. Even worse is them calling their bfs in the middle of the class to alk in french....urrrghhhh.......our teacher although 27 yr old acts like a big fucking tinker bell with her behavious like a 12 yr old...actually i dont dislike her that much....
I think I have lost the mean edge I had and gone all soft. I need to get back into the meanness restoration program which includes:
DONT GIVE A FUCK: part one of the program...try not giving a fuck of anything around you...be it some girl whining or ur boss taking it out on u cos his wife has stopped having sex with him......just dont give a fuck....give a blank stare with a half smile and keep staring till they get bored....
MASSIVE WEIGHT TRAINING: Ull be mean when u look mean...try lifting weights atleast 4 days a week ...serious weight lifting...not like those hairy middle aged men who go to the gym to embarress themselves and hog the equipment..have a proper program
BE AS UNCOMPROMISING AS POSSIBLE: Hey pleasing anyone dosent help...they will know ur easy and will take advantage of you...just do what u want, say what u want...u dont have to please anyone ...if they like u as u are they will come to you....if u say the food is crap say it....if u think the ur gf is not good enuff tell her to get lost ... if u think what the other guy is saying is stupid tell him to shut up...
FORGET WHAT THE WORLD IS SAYING: The world is always trying to delude us with wrong signals and making us believe that we are born ordinary and the greatest thing we can achieve is a good job, a happy family blah blah..aka "The Believer's Utopia"..Hey and 99% of us are hooked by this stereotypical dream this system has created as a method to achieve stability....The lower the energy of the system, the more stable it is...oppressing the dreams of the people is how the system keeps them in lower energy states and achieves stability...its does not mind one of two loose canons breaking all these barriers and just getting what they dreamed of....werent you like that when u were 5 ..when u really had dreams and thought they will come true...but the constant mis direction of the world had made u realize it was ur "childhood fantasy" Maybe the half hearted life ur living now is the fantasy and what ur "non stunted flexible" brain was thinking then was true...jus go ahead and get what you want....